Announcing the second edition of Using Other People's Money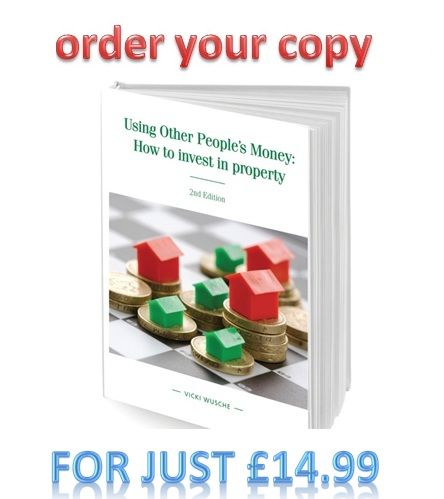 This new and updated book includes 15 strategies – many of them new to this edition – new experiences and new case studies. It includes a selection of local recommended property network events and their hosts. It is current and relevant right now, if you want to buy or control property at one of the best times in the market!
This edition will help you
Understand what strategies work and what don't in the current climate
Create a better relationship with lenders and banks
Recognise the difference between a large portfolio and financial freedom
Demonstrate what you are worth and how to earn that through your property strategies
Do you want people to have the confidence to invest in you (and your deals)?

Do you want to know how to leverage money yours or other peoples? Do you want to identify untapped sources of money just waiting for you to ask?

Do you want to earn 4,000 pounds per month Using Other People's Money? This book will teach you the strategies…

Do you need to understand the mindset of success, how to stay motivated, how to stay focused? This book will help …
Do you want to know the truth about working with banks, lenders, using credit cards?
If you have answered yes to one or more of these questions then Using Other Peoples Money: How To Invest in Property is a MUST buy NOWVicki Wusche explains in this 2nd edition the strategies she used over the last 3-4 years to enable her to build a substantial portfolio Using Other Peoples Money. Vicki reveals the hard cold facts about 15 investment strategies, including new strategies and new case studies. She points out where you can make real money in the deal, while protecting the long term future of your cashflow.Using Other Peoples Money: How to Invest in Property was the most anticipated property book of 2010, it was the

most valuable book of 2011,

It SOLD OUT in 2012, it is now updated and reprinted specially for you NOW!This is what some readers have already said ….."I saw Vicki talk last night at a property networking event, bought her book and woke up early today to read it. I was so excited – I have properties already but the money from banks has run out and I am starting a new business. I have been struggling with how to get back into the property market with absolutely no money. People I talk to don't believe it can be done, but Vicki is a very ethical person and she knows her stuff. If you have been using the old "I don't have enough money to get into property" excuse, then you now have nowhere to hide as Vicki explains how EVERYONE can get into property. One of the best property books I have read!""Hi Vicki, just finished your 'manual' on How to use Other Peoples Money. Have put it straight to work and raised 50 thousand pounds from a neighbour who recently sold an inherited house. The book also gave me the idea/confidence to ask the divorced owner of a property I am currently buying, what he intends on doing with the money! He came to the conclusion that it would be better to invest his 100k pounds with me You are right when you say it is a huge responsibility. Thanks for being there."

That could be you ….. no more excuses, more understanding and confidence about how to leverage Other People's Money, people investing their money in YOU! Financial freedom is within your grasp – you just need to decide whether you want it – buy the book now – what are you waiting for?